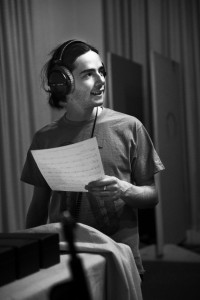 Hugo Lee is an award-winning saxophonist and multi-instrumentalist with international performing, composing and recording experience and five original albums to his name.
An in-demand session musician based in Melbourne, he is equally at home on the stage or in the studio and has performed throughout Australia, the USA and Europe.
Trained in both Jazz (ANU/UIUC) and Classical (AMusA) with strong contemporary influences, Hugo's music draws from a myriad of genres and the output ranges from Fusion, Funk, Blues, Jazz and World through to Pop, Rock, Folk, Reggae and Electronic.
A multi-instrumentalist specialising in the Saxophone and EWI, he also plays Guitar, Bass, Keyboards, Percussion, Harmonica and sings.
His latest album, Confluence, was created under the mentorship of Andrew Farriss (INXS) with whom he has worked with extensively both in the studio and on the stage.
Confluence balances the exploration of Art and the comfort of Pop, finding nourishment where these two rivers meet: ideas are drawn from across the board, blending an array of influences, with catchy melodies, experimental forays and all knitted together with a strong sense of groove.
Hugo's musical journey began at a very young age playing the recorder and cello, which morphed into the saxophone and guitar respectively. While performing in his school's band, orchestra and choir, he formed his first band at the age of 13 and has been writing, recording and performing his own music ever since.
At the age of 18, Hugo journeyed through Europe (particularly Edinburgh and Berlin), travelling and busking on the streets, playing in Jam Sessions/Open Mic Nights and performing at gigs with bands of varying lineups/styles, including at the Edinburgh Fringe Festival. During this time, he played with musicians from all walks of life, from bagpipers and folk singers to hard rockers and DJs. Notable moments include experimental funk sessions in Berlin and spending a week in a hut by a loch in the Scottish Highlands, recording an album with a local band.
Seeking to further his formal education, Hugo spent the next four years studying Music and Physics at the Australian National University, specialising in saxophone performance and acoustics. Here he continued to write, record and release his own records and work as a sideman with local and interstate acts, as well as entering the corporate gig scene – playing at wineries, embassies and Parliament House – whilst learning from esteemed saxophonist John Mackey and furthering his skills in acoustics and audio engineering.
During his final year of study he embarked on a university exchange at the University of Illinois, studying under Grammy Award winning saxophonist Chip McNeill and playing lead alto in the big band conducted by James Pugh (Chick Corea, Steely Dan, Woody Herman). While in the States, Hugo performed and recorded extensively in Chicago, New York, LA, Nashville and Memphis. He was an instant hit with the local musicians and record producers, with many offers of future work. Highlights included late night sessions in NYC and rubbing shoulders with saxophone greats David Sanborn (The Rolling Stones, Stevie Wonder, David Bowie) and Richie Cannata (Billy Joel, The Beach Boys).
Inspired by his adventures, he constantly explores new musical avenues to discover original sounds and styles.
Hugo now lives in Melbourne, and along with his original projects has been collaborating with a wide variety of acts including Holy Holy, Jack The Fox, Thando, Riley Catherall, Ruby Gill and many more.
When not playing music he enjoys mountain running and acoustics research, fusing his two study disciplines with exciting results, both technological and artistic.
With a strong passion and diligent work ethic, the future is an exciting place for Hugo Lee.